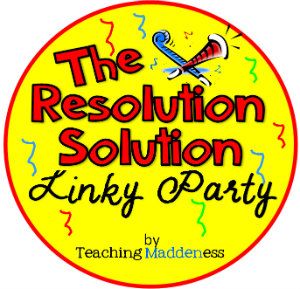 Amanda Madden over at Teaching Maddeness is hosting a terrific linky party to encourage bloggers to choose (and stick to) New Year's resolutions! I thought I would join in with some resolutions of my own. Here goes:
School
1. I like to have one-on-one conversations with my students to learn how they're doing and what really interests them, so that I can make motivational books, worksheets, books, etc. But it always seems like there's a time crunch, and there are a few kids that I just don't get to because they're really shy or hard to approach. I'm resolving to start the New Year off by finding out a little more about those hard-to-reach kids. I think in the end it will be very beneficial for everyone.
2. My second resolution is to help my four lowest students to learn their numbers to 20. Sometimes I feel like I've already explored every option, but the truth is we know that there's always something else that we can try.
Personal
3. I have a difficult time relaxing. I always feel guilty on weekdays if I'm not doing schoolwork all night. My New Year's resolution is to take one hour a day to listen to a book, or watch an episode of "Chopped" or "Cupcake Wars" - these are my two new favorite shows! :-) They describe everything really well, and being blind, some TV shows are hard to watch.